Are you in search of the best games in Ghana? The Google Play Store offers a plethora of smartphone games catering to diverse gaming preferences.
Enthusiasts often have an array of these games installed on their computers and mobile devices.
Diverse in content and size, these games range from modest file sizes to larger ones, some even exceeding 1GB. Notably, playing such games requires a high-end smartphone, distinguishing them from the standard options.
A point of interest lies in the origin of these games. How many are crafted by talented Ghanaians within the country? Surprisingly, while there are Ghanaian-developed games available on the Play Store, their numbers remain relatively modest.
Two noteworthy examples are Oware 3D and Cedi Rush 2D. It's essential to acknowledge that these games have faced criticism, often centered around excessive advertisements and subpar graphics.
Delving deeper, it becomes evident that a significant number of Ghanaian developers lean towards creating apps for websites rather than venturing into the realm of mobile gaming.
This preference sheds light on the comparatively lower presence of Ghanaian-developed games on the Play Store.
Let's explore Oware 3D and Cedi Rush 2D to gain insights into their gameplay and overall appeal.
Oware 3D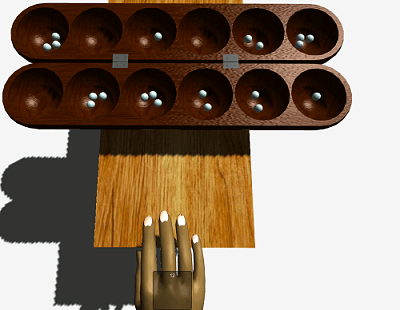 The authentic Oware game is a Mancala variant widely enjoyed in West Africa and some parts of Asia. Known for its straightforward calculations, the game's objective is to capture more seeds from your opponent to secure victory.
Oware 3D, crafted by Kobby's Hobby, gained recognition as the best Android game developed in Ghana during the 2013 MTN Apps Challenge.
The development team dedicated efforts to ensure the game stood out among Ghana's Android gaming offerings.
Presenting players with both single-player and multi-player modes, the latter was still in its BETA stages during its initial release.
This game boasts high-definition graphics and fluid gameplay, contributing to its acclaim. For those unfamiliar with the game mechanics, an easily comprehensible tutorial is provided, facilitating a smooth learning curve for first-time players.
Oware 3D comes with a range of features, including the option to invite friends to join the game via Facebook.
If you haven't experienced it yet, giving this game a try could provide a delightful and engaging gaming experience.
Cedi Rush 2D
Car Rush 2D, a creation of Heptagon Technology, unfolds with a captivating and straightforward storyline.
The player assumes control of the main character, an intriguing figure named 'Kwame Ninja,' who starts the game as a homeless and financially strained individual, a touch of humor embedded in the narrative.
Guiding Kwame Ninja, players embark on a quest to escape poverty and accumulate wealth within the Ghanaian backdrop.
The game promises an exciting journey, ensuring players are in for an enjoyable experience.
What sets this game apart is its compatibility with low-spec devices, allowing a broad audience to partake in the adventure.
Notably, it boasts an impressive 5.0 rating on the Google Play Store, indicative of its popularity and user satisfaction.
To add an extra layer of challenge, players are tasked with surpassing a high score as they navigate through the game.
Moreover, the game's performance remains commendable even when devices are in battery saver mode, ensuring a smooth and uninterrupted gaming experience.
Give Car Rush 2D a try, and immerse yourself in Kwame Ninja's quest for prosperity.
Conclusion
There's a growing emphasis on supporting locally crafted products, and the realm of mobile apps is no exception.
Ghanaian developers have contributed their skills to create apps that are available for download on the Google Play Store.
In the spirit of promoting made-in-Ghana digital content, I encourage you to give these games a try.
Oware 3D and Car Rush 2D, developed by Kobby's Hobby and Heptagon Technology respectively, offer engaging experiences on your mobile device.
By downloading and experiencing these games, you not only contribute to the growth of the local gaming industry but also have the opportunity to enjoy unique and entertaining gameplay.
So, why not take a moment to explore these creations, who knows, you might discover a new favorite game developed right here in Ghana.
Give them a try, and later, feel free to share your thoughts and experiences. Your support matters, and by engaging with these apps, you play a part in promoting and appreciating the talent of Ghanaian developers.
If you are also looking for ways to make money online then check out this article covering how to make money online in Ghana.